We gave out swag bags and fun socks!


DashLocker visited
the Pencil Factory at 122 West in Greenpoint
this week to give away some swag, wine, and cheese during an after work party. The spread was delicious (especially the honey infused goat cheese paired with the rosemary raisin crostini), and we loved being able to chat with the residents of our new location.
Ariele, our VP of Business Development, gave out snacks to residents.
The event provided some much needed mid-week relaxation for residents, and parents socialized while their adorable children played in the lobby. It was great seeing residents getting to know each other!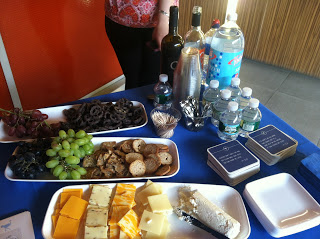 The party finished three bottles of wine-- that's how you know it was fun!
Do you have DashLocker in your building? If not, you can request it here, but if you DO have lockers in your apartment, feel free to request a visit from the DashLocker team! Just email
[email protected]
and we'll schedule a time to throw a bash for you and your neighbors.
For more pictures from the event, and for special sales and promotions,
like our Facebook Page
.